When you're dropshipping it's important to be aware of the time/season you're in. Currently, we're at the end of the year, and you should be aware of the best dropshipping niches for Q4 – that's how the e-com peeps officially describe this period.
This is the time when e-commerce sales boom. Given this year's events, e-commerce has been skyrocketing as it is, but Q4 will take it to a brand new level.
However, one downside is that many people will be trying to benefit off of this period just like you and me. Therefore, the marketing costs i.e. Facebook's CPC will be higher. So, just have in mind that scaling your store in this period may require a bigger investment!
What Is Dropshipping?
If you don't know what dropshipping is by now, you're missing out! It's really what every other brand in the world has been doing since the earliest days, except they slap their brand logo on.
So, in the simplest terms – dropshipping is a product fulfillment model, which allows you to sell products without having to own/touch them physically.
You pick any product that is trendy/fun/goofy/light/cannot be found in stores. Then, you create a store about it, and brand the living hell out of it.
Then, the most important part comes in – marketing. In my humble opinion, you can sell almost any product in the world as long as you find out the audience that is obsessed with it, and market the product in the way the audience expects to see it.
I'm sure all of you and me included could use some extra cash this year, and dropshipping is one of the best business models to start with.
You can do it 100% remotely, and tap into e-commerce, which as I've explained is soaring!
Read more about what dropshipping is and how it works here.
What Is The 4th Quarter?
Q4 or in other words – 4th quarter – in e-commerce refers to the last three months of the year. The Q4 starts on the 1st of October and ends on the last day of December.
There is a reason why dropshippers or e-com specialists start buzzing around this period like crazy. This Q4 term isn't thrown around lightly.
The above chart represents the growth of e-com sales during Q4 over the years.
As you can see in year 2010 e-commerce amounted to 4.6% of all sales. However, in 2019 e-commerce is almost thrice as powerful.
You can notice an average increase in e-commerce sales of 1% each year. Now, this year has been different. The whole world has been hit with an unprecedented phenomenon that is said to have fast-forwarded the growth of e-commerce by 4-6 years.
So what does that mean?
Well, let's do some probability math here.
E-com sales last year were taking up 11.5% of all sales
This year the percentage should be bigger by 1, therefore 12.5%
But then COVID-19 sped up the process, so e-com Q4 sales should be 16.5-18.5% – the equivalent to how it should be in 4-6 years
So what does this tell us?
That tapping into dropshipping in Q4 2020 is a great opportunity and should not be missed out on! Educate yourself, and take action now while there's still time to take advantage of this period!
What Events Of Q4 You Should Prepare For?
The great thing about dropshipping is that it takes advantage of all the special events that come by. There are plenty of events all year round that can be put to good (monetary) use!
There was the BLM movement this year, and the global eco movement not long ago. There's the Trump supporters and Biden supporters. I know that taking advantage of these movements/ideologies can seem immoral. And done in a bad way it certainly can be!
Like encouraging people to buy more when you're an eco-friendly brand and the whole idea is to minimise waste.
But the way I see it, these opportunities are extremely useful to help you jumpstart your brand and also to bring more exposure to things you care about. I.e. if you start an eco-friendly brand, create an Instagram account posting and educating people about zero waste mentality, etc.
But now, let's talk about Q4 events you should tap into.
Halloween – October 31st, 2020
This is the holiday you've all heard of and celebrate in your own way. What you might not know about it is that Americans open up their wallets generously to this spooky night!
In just 2017 alone, Americans spent $9.1 million to shop online. Mind you, that was 3 years ago! This turns out to be 179 million people spending $86.13 each.
That's an insanely profitable AOV (average order value)!
The things that sell the most online for Halloween are costumes, accessories, and decorations. Sweets sell too of course, but you can't dropship them! Or shouldn't, at least.
It's important to point down that you'd need to start advertising before Halloween, during, and after. People are inclined to buy before and after, but buy the most on the Halloween weekend.
You only got a few months to make the most out of this Holiday, so it requires a hefty budget. You need to test multiple products, and scale the winners fast.
I also recommend advertising specifically for Americans. I haven't seen any other nationality enjoying this holiday quite as much as Americans do!
Above are the stats of a big Halloween costumes shop. Notice how it starts gaining traction as early as August, and then just skyrockets in September? It literally jumped from below 1M visitors to around 3M in a month's time!
Logistics, and handling is important to get right during this period!
Thanksgiving – November 26th, 2020
Next is the slightly peculiar American holiday to me as a European! It is the day of giving thanks, that is celebrated by the United States and Canada and finds its roots in 1621 harvest feasts shared by English colonists.
History aside, Thanksgiving drops another bomb for dropshipping as online sales hit $4.2B in 2019, which is 14.5% higher than 2018. 45% of those sales were done via mobile.
These stats are just crazy for e-com.
Imagine people getting so comfortable with their devices that almost half of the sales get completed via mobile! Just gotta wonder what will this year's stats be then?
Some of the popular sold items during Thanksgiving 2019:
Toys
Frozen 2 dolls
L.O.L. Surprise dolls
Nerf
Games
Madden 20
Jedi Fallen Order
NBA 2k20
Gadgets
Fire TV
Apple Laptops
HP Laptops
How shoppers are reached, a.k.a. marketing:
Paid search (Google) – 24%
Social – 20%
Email – 9.4%
Social media influencers guide 1/10 shoppers to buy products, and 1/5 among GenZ audience
It goes without saying that you cannot sell branded goods! And I don't want you to even have such ideas! Unless of course you can afford a license to do so.
But this list should give you an idea of what sells the best during Thanksgiving.
Black Friday – November 27th & Cyber Monday – November 30th
These two are basically insane shopping sale events so big that they gained a reputation and rippled across the whole world.
Haven't seen what Black Friday looks like?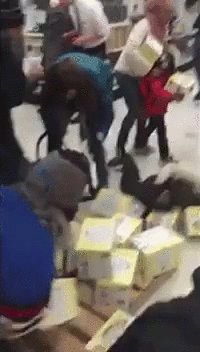 Yes, really. No joke! That's exactly what it is. It gets physical.
Now, why does that happen? Because brands make insane up to 70% off deals that people just can't resist.
P.S. You can make these deals as well, just fabricate it! A drop from 100$ to 30$ and still make a profit because product value is i.e. 10$.
It's safe to say that this won't be happening this year due to the pandemic, and Black Friday is not really what it used to be anymore since all selling is done online.
Last year's Black Friday sales reached 7.4B$ in the USA and Cyber Monday amassed 9.4B$ according to Adobe Analytics.
The sales revenue increases by at least 1B$ on a yearly basis, and having in mind the e-commerce boom, we can expect astronomical numbers this year!
Christmas – December 25
Now Christmas is truly the holy grail for any dropshipper!
Think about yourself. Do you shop for gifts every year? Most likely yes. Do you start looking (sometimes) way ahead of time? Also yes.
It's hard to pinpoint exactly how much people spend on Christmas and around. There are events like Black Friday and Cyber Monday that can skew the statistics since people can be shopping for gifts on those occasions too.
Just know that official US holiday season retail e-commerce sales were around 135.35B$.
That is 135.350.000.000 United States Dollars. It is sometimes useful to write these numbers out properly to see the amount of zeroes following.
The average growth of holiday season retail e-com sales is 13.2%, plus this year's unprecedented growth, and we get… immeasurable numbers. Surely, I cannot predict the future. But this is where we're heading!
The average American spent 942$ per person on holiday gifts in 2019, so this year the expected expenditure increases to 1.066$. And you must tap in to get the piece of that pie!
New Years – December 31 & Post-Christmas
A bunch of stores offer great post-holiday discounts, and so can you! People receive a bunch of monetary gifts, cash, gift cards. They're just waiting to pamper themselves.
It's a great time, because shops lower the prices, but people still have the power to buy. Some people stack up for the next year, others start to look for next year's gift already!
5 Best Dropshipping Niches For Q4 (With Explanations)
The statistics are based on Deloitte's report for holiday expenses of year 2019. The niches are displayed in order of popularity.
1. Clothes & Accessories – 26% share of holiday spend – avg $387 per buyer
Fashion, accessories, and jewelry such as belts, purses, or customizable pendants do great during this season. Do you ever recall your auntie Mary gifting you a pair of socks? Because I sure do. It never gets boring! (Or does it?)
This season I anticipate fashion may not do as well or may see a minimal drop. People spend most of their time indoors due to the pandemic and it's not seeming to slow down, so there is not much need for fancy clothes.
Be aware that beginner dropshippers are not advised to start with selling clothing! Ecom fashion return rate can reach as high as 40%. That's a LOT of logistics to deal with when you're just starting out.
The good thing is you can tap into print on demand, which is essentially dropshipping unique and unusual designs on T-Shirts and the sort. But you only ship them on demand, a.k.a. when there is an order! Wholesale Ted is an expert in this field.
Why does this niche do well?
People love gifting fashion or little fashion accessories
Some products are rather cheap and affordable
People love buying clothes & accessories
Lots of great discounts make higher-priced clothing more affordable
It's an evergreen niche – people will always need clothes
Trends and multiple styles – great variety
Customizable jewelry makes a great gift
2. Health & Beauty – 20% share of holiday spend – avg $310 per buyer
Everyone looks to pamper themselves during the holiday season! That's what makes this one of the best dropshipping niches of Q4, almost on par with the fashion niche.
Yet again, if you want to tap onto this niche, you have to be wary of certain products. Be careful with anything that you need to consume or put on the skin. These products can have severe side-effects. Even mild ones could ruin your business right off the bat.
And it's really hard to enforce quality control when you're dropshipping just from AliExpress and have no way to see the product itself!
Why does this niche do well?
It is easy & almost standard to gift beauty products
Some products are rather cheap and affordable
People love buying beauty products
Lots of great discounts make higher-priced creams, serums, etc. more affordable
It's a niche with great conversion rates
Women are eager to buy beauty products, even if they already got identical alternatives
Can create awesome branding, which is the main reason why beauty products get bought so well
3. Toys & Hobbies – 17% share of holiday spend – avg $299 per buyer
Ever been sad during Christmas because your xyz younger brother or sister got more presents than you? Did that make you feel old? No? Maybe it's just me then.
All jokes aside, children are the stars of this holiday and they get pampered, just showered with gifts all 'round. While older children may prefer branded, popular toys, the baby niche is great for dropshippers!
Why does this niche do well?
Kids get more than 1 present each
Some products are rather cheap and affordable
People love pampering their kids
Baby niche is full of innovative unbranded products
Hobbies have great passionate niche audiences that convert easily
Black Friday & Cyber Monday have great sales for toys
4. Electronics & Accessories – 15% share of holiday spend – avg $348 per buyer
People use and live among electronics daily. New gadgets get released very often. The shiny object syndrome makes people want to said new gadgets. And boom you got yourself an electronics geek! Passionate buyer!
Why does this niche do well?
High-value products – Tech is usually priced high, so you can get away with ramping up the price
Can create a print on demand store for Tech accessories
Phone & laptop accessories niche is full of cool unbranded products
Some niches like Apple have passionate fans: fake AirPods and charging decks for Apple are just a few winning dropshipping products
Black Friday & Cyber Monday have great Tech sale
5. Home & Kitchen – 9% share of holiday spend – avg $280 per buyer
Have you ever witnessed your parents and relatives exchanging sets of pots, blankets, engraved cutlery, and such? Because I sure have.
Home & Kitchen is popular amongst the slightly older audience, as Gen-Z doesn't tend to care much about kitchen goods.
Why does this niche do well?
High-value products – Home & Kitchen stuff tend to be higher value items, sell them for a higher price
Can find affordable items
Lots of variety
People are cooking at home now more than ever, they want to revamp their kitchens
People are staying at home 24/7, so they want to make their home cozier
Even Gen-Z love to decorate their living spaces
Black Friday & Cyber Monday have great Home & Kitchen sales
Conclusion
Q4 is a great time to get started or scale your dropshipping store! Even though we're at the end of October, there's still 2 months and more to take advantage of. However, it is not all fun and games!
Like all great things in life, being successful is not an overnight thing. You have to keep in mind that everyone is competing fiercely during Q4 and advertising costs increase.
You cannot just slap a product onto your store and expect it to succeed. There are certain rules that come to play in Q4. You have to devise a plan.
Namely, you have to make sure you got the branding down, your product could pass as a gift, offer correct discounts utilizing the best events, and tap into the correct audiences. Easy! Right?
In any case, do not rush if you don't feel ready. You could easily lose money if you come unprepared. But also don't dawdle in analysis paralysis too long!
Remember, the goal is the long term game. And you're here to build a brand. Q4 is just a period of time, and it will come up next year. So take advantage of it next year if you feel now it's too late.
All the best and good luck!
How To Set Yourself Up For Success Dropshipping In Q4?
DON'T MAKE THESE 11 DROPSHIPPING MISTAKES IN 2020
GET THESE 8 MUST-HAVE DROPSHIPPING EXTENSIONS
GET THE 30 DAY SHOPIFY FREE TRIAL AND SAVE MONEY (WORKS IN 2020)